To make the most of your family adventure in the Maldives, make sure your itinerary includes as many of the things below as possible!
Plenty of Time at Resort Water Sports Centres
Highlights:
Fun in the water for kids of all ages
A holiday upskilling opportunity – e.g. get PADI certified
The Maldives is over 99%, warm, clear, tropical water. It would be a shame to not allow your kids to take advantage of it. In fact, the resorts of the Maldives are well known for offering a generous array of water sports that you and kids of all ages can enjoy, no matter your skill level. If you're new to something or need help, just enlist the help of the trainers at your resort's water sports centre.
A glimpse of some of the water sports or water-based activities that many resorts offer:
Snorkelling
Scuba diving
Jet skiing
Kayaking
Stand-up Paddleboarding
Flyboarding
Sea-bobbing
Water skiing
Windsurfing
Kite surfing
Surfing
Apart from the above activities, several resorts also offer float-based rides such as banana boat rides or similar which are great for smaller kids who can then enjoy a safe activity in the water with older siblings and family members. It's also great for older family members who don't know how to swim or aren't strong swimmers but want to have some easy fun in the water.
Kids Clubs
Highlights:
Kids play with others their own age and make new friends
A range of fun, age-appropriate activities and facilities exclusive to the club
Parents and older teens get some time off!
There's always that point in the vacation when the younger kids are bored to death or overflowing with energy, and it's hard for you, your partner to keep up. Instead of driving yourself crazy, or delegating the resentful chore to your older teens who probably want to be left to their own devices, enrol your younger kids into your resort's kids club.
Kids clubs are usually for pre-teens and younger teens and are manned by childcare experts at the resort.
Activities and facilities that many kids clubs tend to offer include:
Face painting
Arts and crafts
Treasure hunts
Separate pools and slides for kids
Reading nooks
Movie sessions
Other Fun & Educational Activities
Check with your Maldivian resort to see if they offer other activities that are child and family-friendly.
These can include:
Movie nights on the beach
Marine life museums and/or conservation centres for fun and educational experiences
Cooking classes for families
Family-Style Multi-Bedroom Villas & Residences
Highlights:
Privacy for the family
Plenty of exclusive-access indoor and outdoor space (e.g. plunge pools and living/dining spaces)
To have the ultimate family-friendly fun in the Maldives in style, there's no doubt that you need to check yourself into a family-style villa or residence at one of the many luxury resorts in this island nation. Staying at one is an experience in itself.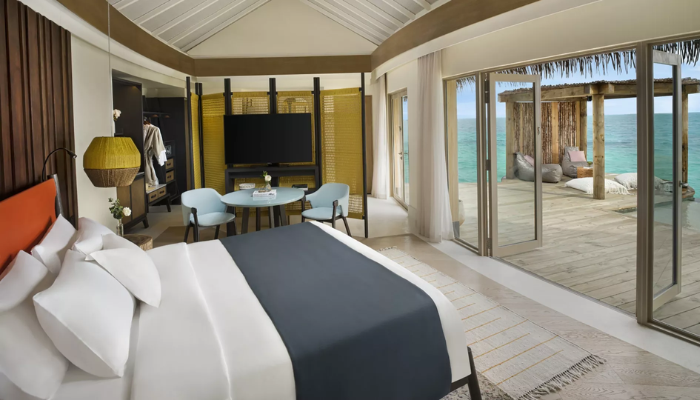 ---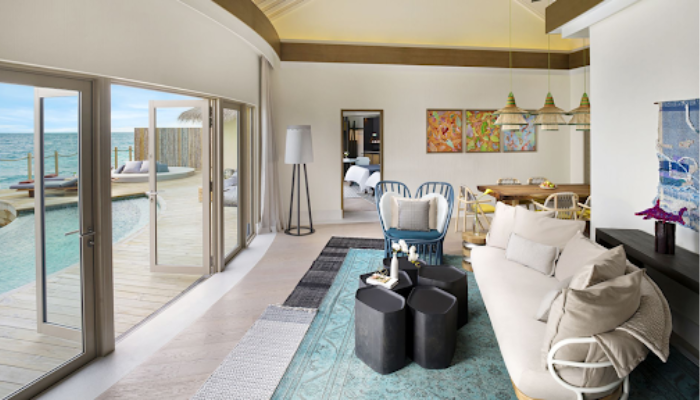 Take the InterContinental Maldives – 2 Bedroom Water Villa for example; offering expansive vistas of the majestic Indian Ocean, this villa offers plenty of space for the family to stretch out and a range of private hangout spots inside the villa and out. Set directly above the sea, this overwater villa spans over 3,000 square feet (a generous space to spread out over for a small family). Perks and amenities include views of the sea from every room in the villa and direct access to the ocean thanks to a spacious deck with steps leading into the water. No matter the resort, most 2 bedroom villas or residences in the Maldives tend to come with basic facilities that are similar to the above, with the main difference being that a beach villa would not offer direct access to the sea like a water villa, but would instead offer access to a scenic private or semi-private beach stretch.
In this example, you and your partner would take the master bedroom which features a King bed while your child or children enjoy the second bedroom which offers two twin beds. Each bedroom comes with an ensuite bathroom so that everyone can keep to their own schedule. When it's time for meals or entertainment, come together in the indoor dining and living area or head out to the alfresco living and dining pavilion.
Do the kids have special dietary requirements or preferences? No fuss – you'll have your own pantry.
Do the kids want to go to the pool? No problem – it won't be a chore. No need to pack swimming bags and traverse the resort, kids in tow. Just step outside to your villa's private deck and infinity pool.
While the Maldives is still best known as a honeymoon destination, it has a lot to offer families – you just need to know which activities, experiences and accommodation types to look out for!